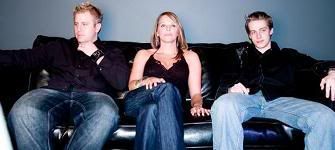 Release Label:
Coldharbour Recordings
Release Code:
CLHR054
Release Date:
September 22nd 2008
Walk With Me (Original Mix)
Walk With Me (4am Dub)
Walk With Me (Air Up There Remix)
Once every so often a producer or group bursts into the forethoughts of many progressive and trance enthusiasts, immediately finding a position in the CD cases of the world's best DJs.
For the summer of 2008, Chad Cisneros and Dave Reed, better known as Tritonal, find themselves in this very position.
Based in Austin, Texas, they have quickly been winning over fans of both progressive and uplifting trance, thanks to their engaging melodies. Tracks such as Essence of Kea, Forever and Lights over Austin have been great cause for recognition, and now they make their bow for Coldharbour Recordings with a track that fits all the etiquetts for the label, entitled "Walk With Me".
Immediately identified as one of the outstanding gems on Markus Schulz's Armada at Ibiza compilation, Cristina Soto's beautiful vocals give the track a real emotional mood, the feeling that love is everything. With a trademark Coldharbour-style bassline to match, it is no surprise fans of Global DJ Broadcast consider this as one of their personal picks of 2008.
Tritonal are responsible for all three mixes on the package. A 4am Dub is available for those who prefer the track without Cristina's vocals, and Tritonal provide a more uplifting touch to the third mix, aptly titled "Air Up There" - perfect for the peak time moment in a set.
With an enormous amount of support by Markus on both his Global DJ Broadcast and Evolution radio shows, Walk With Me looks set to quickly become a fixture in many DJ sets over the coming months.
With such an impressive debut, fans can expect to hear a lot more from Tritonal on Coldharbour Recordings in the near future.
Available to buy digitally from Armada / Audiojelly by

Clickng Here


Available to buy digitally from Beatport by

Clickng Here


Available to buy digitally from CDJShop by

Clickng Here